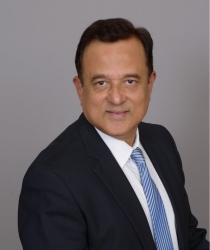 Ravi Amble
Ravi Amble has more than 25 years of overall industry experience with more than 15 years experience in building telehealth networks by advancing his career in the Information Technology Industry as an accomplished business technologist and entrepreneur.
Progressing in his career, Ravi has been recognized as a pioneer-entrepreneur in Telehealth by building one of the largest Telemedicine networks in the world with NASA as a professional foundation.
Under Ravi's leadership as the Co-founder and COO of Rapidigm, an IT Solutions and Services company, Rapidigm received the recognition as one of America's 500 fastest growing privately held companies for 2 years in a row and was successfully acquired by Fujitsu America in 2006.
Additional notable exits that Ravi has participated thus far have been, InMage to Microsoft, and LeadFormix to SAP.
Today, Ravi Amble is a successful serial entrepreneur actively working with and building holistic and personalized software-appliances for decision support using Artificial Intelligence, Machine Learning and Data Science for Telehealth, Visual Intelligence, Hybrid Behavioral Extraction, Continuous Data Protection and Business Continuity.